Thanks to Nick Reid, the first prize winner in our short story contest Stories Through The Ages, College Edition 2017, for sending us a picture of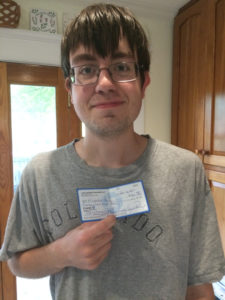 him with his $500 check,
The website has been updated with the synopsis for each story that will be in the book. There is also a button to "Reserve a Copy" to make sure you get one from the first printing. We are planning to have the book available in late June. You can read the synopses here.
Remember, submissions for our short story contests Baby Boomers Plus 2017 and Generations XYZ 2017 are open.