What Is A Hero and Living Springs Publishers were featured in articles by The I-70 Scout and Eastern Colorado News. Read the articles here.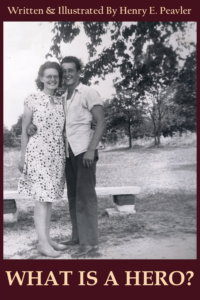 Paperback $14.99 $12.50 U.S. (S&H included)
For orders outside of the United States please email for price.
Kindle ebook is available on Amazon
Download an order form
Henry Edwards was driving to the golf course on May 2, 2009 when his cell phone rang. The caller was his doctor and the news was devastating: Cancer! Lymphoma to be exact. His life would never be the same.
To keep family and friends abreast of the diagnosis and treatment of his deadly disease Henry kept a diary. The diary entries are included in the book along with the illustrations, he drew.
Between the diary entries are accounts of his coming of age during the Vietnam War, sexual and drug revolutions and the aftermath of World War II. Forced to reflect on a life now changed, Henry revisits his youth to search for solutions about what his life has become. He finds the answers in the remembrance of his mother. A woman who faced heart-rending tragedies with a sense of humor and humility; never questioning why these things happened, asking only of herself, what do I do to keep my family together. A lesson that serves Henry Edwards well in his own time of need.
Great book
★★★★★
"
Great book, I really enjoyed the short stories. The Cancer stories, while dealing with a serious subject, made me laugh at times.
"
Good book
★★★★☆
"
I hadn't read a book in years, but this was a good one to start reading again. I enjoyed all of the stories.
"
What is a hero?
★★★★★
"
I smiled a lot while reading this book but there was always an underlining compassion for the way cancer was challenged. A must read for everyone!
"
Please leave a review