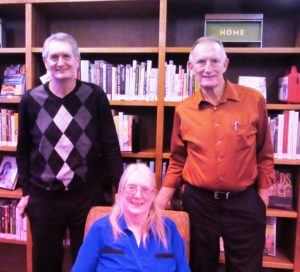 Living Springs Publishers LLP is a family owned, independent publishing company based in Centennial, Colorado. We chose the name Living Springs Publishers to honor our roots in the Living Springs area of Eastern Colorado. When we first started Living Springs Publishers we had two very specific goals in mind: To finish and publish Henry's book "What is a Hero", and to finish and publish Dan's novel "The Toastmaster. Both of these goals were accomplished within the first three months of our existence.
After these tasks were completed we decided that we wanted to give other writers an avenue to have their work made available to the public. The economic reality of the publishing business makes it impossible to publish books without the authors facing a very high financial burden. We came up with the idea of our "Stories Through the Ages" book series. We received many entries for the College Edition and for the Baby Boomer Plus contests. We are extremely proud of our first two books and the authors who sent us their stories. We plan on these contests continuing for many more years. Our first year of existence has been extremely satisfying.
Now, Living Springs Publishers want to begin something new, something that has been in the planning stage for a year. It is with great pleasure that we announce the creation of our new endeavor called LEGACY BOOKS. The idea is not new but we feel that we are uniquely positioned to help people create a legacy of their family history in words and pictures. Something permanent for those family members who follow and something fluid that can be updated with the passage of time. We want to make it possible to create historical books, with stories, pictures, documents, wisdom and traditions for people to leave to their families for generations to come. Printing options now make it possible to create small quantities of books. Reality tells us that when every day, ordinary people write a book about themselves they usually do not sell enough copies to pay for the publishing. We want to make it profitable for us, yet affordable for you.
We are working on the details for this endeavor. Join our email list so we can keep you abreast of what we are doing. Or send us an email and let us know your thoughts and questions – Support@LivingSpringsPublishers.com