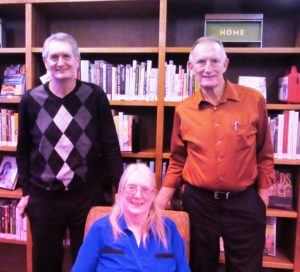 Living Springs Publishers LLP is a family owned, independent publishing company based in Centennial, Colorado. We chose the name Living Springs Publishers to honor our roots in the Living Springs area of Eastern Colorado.
Our first two books became available in December of 2016. As our experience and bandwidth allow we will expand to include new or already published authors.Our goal is to not only be publishers, but to be a resource for writers who need encouragement to get past that last push to finish a book. Being authors ourselves, we can help with putting the finishing touches on that almost forgotten manuscript. Or for those who want to publish their book themselves, but are lost in the internet abyss of figuring out how, we will work with you to publish your book.
Living Springs Publishers LLP is also a source where authors of short stories have an opportunity to be published.  We recently completed the short story contest for the college edition of our book "Stories Through The Ages". Fifteen college age, short story authors will be published in the book by Living Spring Publishers LLP coming available early Summer 2017. We are now accepting stories for our Baby Boomers Plus and Generations XYZ contests.
Remember, writing is an art but publishing is a business and we might be able to help you with either.
Join our email list so we can keep you abreast of what we are doing. Or send us an email and let us know what your needs are – Support@LivingSpringsPublishers.com