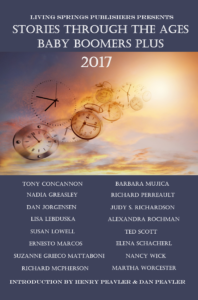 Living Springs Publishers is proud to announce the winners of our Baby Boomer Plus contest:
Lisa Lebduska $500 first prize winner with Waiting for Steven Spielberg
Judy S. Richardson $200 second prize winner with How to Eat Raw Oysters
Richard McPherson $100 third prize winner with Man Wanted in Cheyenne

and the finalists

Tony Concannon - 1967
Nadia Greasley - The Magic Seamstress
Dan Jorgensen - Francis
Susan Lowell - Ironwork
Ernesto Marcos - Found and Lost
Suzanne Grieco Mattaboni - Cartoons
Barbara Mujica - Prejudice
Richard Perreault - Holding Hands with the Clock
Alexandra Rochman - Identification Please
Elena Schacherl - Let's go
Ted Scott - Air Eagles
Nancy Wick - Dear Dave
Martha Worcester- Call me Mr. Grump
You can see the synopsis for each book on our book page.
We received a lot of great submissions and we are really excited about the book.
Our Stories Through The Ages – Generations XYZ contest ends October 15. If we don't get more entries we will not be able to go forward with it. Don't miss out on being a part of the series – writers born 1965 – 1996 please get your entries in.